Why I'm riding 100 miles this weekend
You reach Snowerhill Road in Surrey about halfway along the bicycle ride between East London and Brighton. As I pedalled along the road on Saturday (I snapped the photo that is near the beginning of this page from the road), the area reminded me of when I was a boy.
Back then, my sisters and I would spend parts of our summers at our grandparents' farm, playing in fields and creeks lined by unkempt hedgerows and longstanding trees.
Also, the air was sweet in the way that the country can be on summer days that aren't too hot. There were also birds' whistles and insect sounds.
Why I was riding to Brighton
I really enjoyed being reminded of my childhood as I rode through Surrey. It reminded me of the reason I was riding at all on the day.
I'm preparing to ride a 100-mile bicycle ride this coming weekend. I'm riding to raise funds for our work here at The Children's Society.
My memories of my summers reminded me that I was fortunate to have a good childhood, and many of the young people we support do not.
If you'd like to support our work here at The Children's Society and my ride on Sunday please make a donation at my JustGiving page.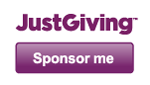 A 7-year-old says it better than I ever will
In addition to my own childhood memories, riding through Surrey reminded me of one of my favourite quotes from a film.
In the first of Michael Apted's series of Up documentaries, he interviews Nick, a seven-year-old from a village in Yorkshire.
Nick talks about the tug I and many of us feel between spending time in and away from a city. He describes city-dwellers' urge to spend time in rural surroundings, and his own desire to spend time in more urban areas.
He charmingly says: 'They'd like to come out for a holiday in the country when I'd like to have a holiday in the town!'
I find his statement endearing and chuckled as it popped to my mind as I pedalled through Surrey.
Support my ride
Please make a donation today at my JustGiving page. 
Thank you.